This weekend we were half old boring married couple and half Hey, we can still hang! married couple.
On Saturday, we saw Transiberian Orchestra. And they were AMAZING!!!!! Here are a few photo I snapped with my phone, but stay tuned for this week's Photo Friday! Because the hubby brought my good camera and took some AMAZING photos!
We also were an old married couple and spent quite a bit of time playing with our new Wii this weekend. It is our Christmas present to each other. My hubby even surprised me with a pink remote.
I managed to kick his booty at Wakeboarding.
I
n real life, my hubby is an incredible wakeboarder. And I. AM. NOT. Needless to say, it was pretty fun to beat him over and over and over again. Until he figure out how to score more points. Now I have my work cut out for me. Gotta keep my virtual edge!
On Sunday, I went to a local movie theatre for the Thirty-One Spring Product Premier. Those of you Thirty-One lovers out there, get excited! The new Spring Catalog is AMAZING!!!!! It was pretty cool to see Thirty-One up on the big screen!
That was our weekend in a nutshell. I now have several loads of laundry waiting for me at home, along with a huge To-Do list of things I didn't get done, including mailing out Christmas cards. This weekend flew by way too quickly!
How was yours?
BTW, I'm linking up with: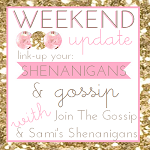 and